MARIO BALOTELLI reckons Manchester City's front three is BETTER than Barcelona and Real Madrid.
The ex-Inter Milan striker believes he, along with Carlos Tevez and Edin Dzeko, make up the world's best strikeforce.
And Balotelli, who joined City last summer, thinks there is no contest between them and Barca trio Lionel Messi, David Villa and Andres Iniesta.
The 20-year-old star said: "Do you think we, Balotelli-Tevez-Dzeko, are poor? Is there better in the world? Not for me. Even Barcelona and Real."
In another trademark shock blast, Balotelli suggested his former boss at Inter Jose Mourinho needs to grow up.
The current Real Madrid supremo is known as one of the top man-managers in the game.
But Balotelli sensationally claimed: "Mourinho is the best coach in the world but as a man he has a lot to learn about politeness and respect."
Balotelli went on to say Manchester City manager Roberto Mancini will surpass Mourinho.
He added: "Mancini's the most important coach I've had. Soon he'll be the best in the world.
"As a man he's 10km ahead of Mourinho."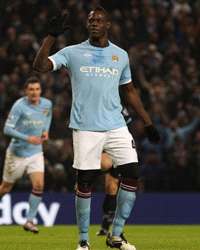 And Mourinho wasn't Balotelli's only target. He also took a swipe at Barcelona's Lionel Messi who last week won the FIFA Ballon d'Or.
The Italian said: "I don't believe Messi deserved the Ballon d'Or, as it should've gone to Wesley Sneijder."
Arrogant Balotelli also hit out at AC Milan owner and Italy Prime Minister Silvio Berlusconi.
In a recent interview, Berlusconi revealed he thought Antonio Cassano was the best player in Italy.
But Balotelli said: "Either Berlusconi's made a mistake or he doesn't know Balotelli very well."
that boy needs to learn his place !
SOURCE
Last edited: